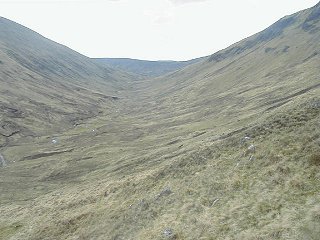 (visited by Martin Mayrhofer and Helga Mayrhofer)
14-May-2001 -- My second confluence in Scotland. This was really a beautiful one. The weather was fine and warm, so we decided to make our second point. The road ended about 5 km before the confluence, but there was a forest walk which brought us 1.5 km to the point. The track ended in about 300 metre altitude (started at sea level) so my wife decided not to go further. The confluence was at 660 metre altitude but it was no problem to get there. Only lonely Scottish highlands and some sheep, which watched me carefully.
This CP can be and is dangerous especially if you are on your own or it is less than perfect weather. Gordon Spence visited this point in August and in the space of 30 minutes on the hillside it went from sun, to rain, to sun, to rain, and back to sun again. If later in the year, it can white out in minutes.