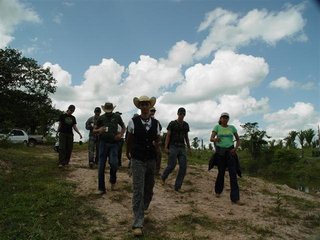 (visited by Michel Silva, Olzeno Trevisan, Ramon Miranda, Silas Marques, Elessandra Rodrigues, Tânia Oliveira, Pedro Costa, Laira Sabrina, Dionatas Ulises, Debie Souza, Bruno Tarini and Sr Osmar)
07-Jun-2007 -- No dia 07 de junho de 2007, visitamos a confluência localizada no Parque Nacional do Pacaas-Novas, próximo da cidade de Mirante da Serra – Rondônia. Nosso grupo era formado por acadêmicos e professores dos cursos de biologia e sistemas de informação do CEULJI/ULBRA, tendo como ponto de partida a casa do Dionatas em Ouro Preto do Oeste – Rondônia.
Este grupo era formado inicialmente por 11 (Bruno Tarini Gimenes, Debie Souza, Dionatas Ulises de Oliveira Meneguetti, Laira Sabrina Pianissola, Pedro Alves Costa, Tânia Regina Oliveira, Michel Silva, Maria Elessandra Rodrigues Araújo, Silas Marques Ferreira, Ramon Nascimento de Miranda e Olzeno Trevisan), mas por sorte nossa, perto do destino conhecemos o Sr. Osmar, proprietário da fazenda que faz divisa com o Parque Nacional do Pacaas-Novas, o mesmo nos ajudou com sua experiência na região. Foi a primeira confluência de todas as pessoas do grupo.
O ponto estava a cerca de 5 km dentro do Parque Nacional do Pacaas-Novas. Com a ajuda do Google Earth e do GPS TrackMaker, fizemos alguns checkpoints para garantir que não sairíamos da rota, visto que esta era a segunda tentativa. Na primeira o grupo não teve sucesso mesmo tendo ficado na região por 2 dias.
O local é uma reservar biológica onde podemos apreciar muitos animais, todos de pequeno porte. A mata não era muito fechada o que facilitava a caminhada, bastando apenas um facão para abrir caminho. Também caminhamos pela nascente do rio Pacaas-Novas.
07-Jun-2007 -- Our group had biology and IT professors of CEULJI/ULBRA, starting from Dionatas house on Ouro Preto do Oeste, Rondonia.
We where fortunate to meet Mr. Osmar, the owner of the farm that neighbors with the Pacaas Novas National Park. He was very helpful with his knowledge of the region. This was the first visit for all those in the team.
The point was 5 km inside Pacaas Novas park. With the help of Google Earth and the GPS TrackMarker we planned some checkpoints to assure we would not leave the route since this was our second attempt. On the first one we did not succeeded despite spending two days in the area.
The place is a biological reserve where you can appreciate many kinds of animals. The vegetation is not closed and is easy to walk in it. We also walked along the Pacaas Novas spring.