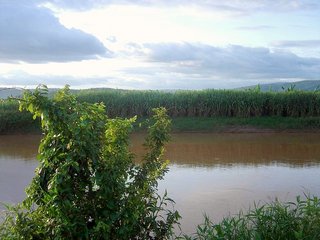 (visited by David Vaucher, Bob, Mattias, Steve, Vincent, Hector, Ejide, Dagmar, Brenda, Taylor, Aisha, Felix, Emiel, Kaitie, Nienke, Kirsty, Father Hen, Virginie, Ivan, Joost, Blaise, Kevin, Christian, Stephen, Suraith, Peter, Guy, Jamal, Sive, Terje, Dominique, Mory, Hester, Jean-Claude, Linda, Moses, Daddy, Zainab, Patrick and Stijn)
Français
12-Mai-2007 -- Ce hash était le dernier pour Sunsive et Osama Bin Mutzig, deux membres éminents du Hash de Kigali. Sive l'avait organisé avec Steve (futur « longitude hunter »).
Nous nous étions tous rencontrés à la station Total de Nyabugogo pour nous rendre à 1 ou 2 km de la Briqueterie Ruliba (Rivière Nyabarongo). 40 hashers avaient répondu présents. Nous avions quitté le parking (point de départ) à la recherche du « confluence point » ou point ou une longitude et un méridien (ou latitude peut être, je me rappelle pas trop bien) se rencontrent au Rwanda.
Arrivés au fameux point, certains hashers étaient visiblement déçus parce qu'ils croyaient pouvoir voir le « confluence point » dans le ciel ou dans les champs de cannes à sucre que nous avions saccagées à notre passage... Le point en question se trouvait dans la rivière Nyabarongo et nous nous sommes consolés de son invisible présence près de nous. Steve, très fier avec son GPS, rayonnait de joie pour cet « achievement » !
Après la quête du « confluence point », nous sommes partis escalader des collines qui nous ont permis de voir l'autre coté du Mont Kigali ! Malheureusement, il faisait de plus en plus noir et il n'y avait plus de « shreddies » pour nous guider. (Faut-il songer à la farine pour les prochains hashs ???). Plusieurs hashers se sont donc perdus. Ils ont pris la route qui aurait pu les amener à Ruhango si un autre Steve n'avait pas pris les choses en main en allant les récupérer dans sa vieille et fière Land Rover. Coupable de l'égarement général : Dr Nienke ! Une hollandaise qui aurait dû être punie soit pour cela, soit pour être trop chic au Hash ! Vous ne vous rappelez probablement pas de son allure élégante et son sac en cuir Van quelque chose...
Ecrit par Daddywood
12-May-2007 -- This Hash was the last one for Sunsive and Osama Bin Mutzig, two eminent members of the Kigali Hash. The run was organised by Sive and Steve (future Longitude Hunter).
We all met at the Total Station of Nyabugogo to go 1 or 2 km from the bricks factory of Ruliba (Close to Nyabarongo River). 40 Hashers were present. We left the parking to find the "confluence point", or the point where longitude and latitude are crossing in Rwanda.
When we arrived at the famous point, some hashers were obviously disappointed, because they thought they will be able to see the confluence point in the sky or in the sugar candy plantations that we destroyed on the way. The searched point was in the Nyabarongo River one meter from the shore and we were consoled for knowing this invisible point being close to us. Sive, very proud with her GPS, was radiating of happiness for this achievement.
After the quest of the "Confluence Point", we continued our way climbing the hills around to allow us to see the other side of Mount Kigali. Unfortunately, it was becoming late and darker and darker and it was more difficult to see the "Shreddies" to guide us back to the cars. Many hashers got lost. They could have gone till Ruhango if another Steve hadn't decided to take his old Land Rover and go find them. The culprit of misdirecting the hashers was Dr Nienke. She was a Dutch who should have been punished for this, or for being dressed too chic in Hash. Maybe you remember her elegant look and her leather bag Van something...
More details can be read here.
Written by Daddywood.