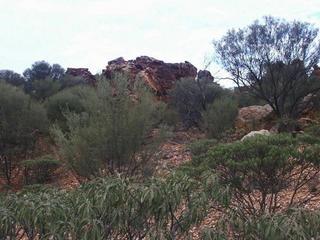 (visited by Denise Allen, Steve McBurnie, Ivan McBurnie, Julie Taylor, Amelia Missen, Mark Gooley, Wiley, Chloe and Jessie)
29-Feb-2004 -- Initially we headed directly towards the confluence and this took us to within 5km of it. As it was hot and already late in the day we considered it was too far to walk, so we decided to drive to a nearby waterhole for a swim and try again on another day! Bouncing along the track we noticed we were getting closer and closer to the confluence via a roundabout route. So at 2.1 km away we put on walking boots and hats, carried water bottles (and beer for celebration) and set off on foot. Through stands of mulga then grasses and Spinifex, through desert grevillia, past colourful rocky outcrops (which were climbed as well) and dry creek beds. We found ourselves at the top of a rocky outcrop at 23.9°S 133.9°E with great views of the area. We celebrated with a beer admiring the view and then headed down to find 24°S 134°E which was nearby and directly south of our vantage point.
Within a few minutes we had all the zeros on the GPS and celebrated again. We took our pictures on a rare cloudy day for the Red Centre and then backtracked along our route to arrive at the vehicles just before dark.