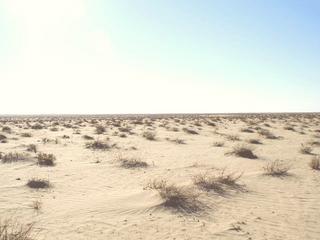 (visited by Giovanni Callegari, Monica Tiziana Lazzari, Elys Olivo, Egly Olivo, Mauro Zanette, Sabina Simini, Paolo Stradiotto, Claudio Minervini, Pierpaolo Traversari, Andrea Negro, Umberto Porri and Aurora Ceolin)
11-Nov-2002 -- At the beginning of November 2002 we were in Tunisia for a great experience: to visit a part of the "Grand Erg Oriental". After a few days of training (driving on the dunes, desert confidence, etc.) and before entering the "real" desert, we decided to visit a Confluence, not far from Tozeur. The ground was dry with some vegetation and in parts sandy, but without dunes or rocks.
It was very easy to find the right place, it needed only about 40 minutes of slow driving. We arrived by jeep not far from the right place, about 30 meters from the Confluence. Then we went on foot to the right place, always working with our three different GPS, until we arrived over the Confluence. At the place, we put a plastic bottle with a message and the firm of everybody into a little hole in the ground. Over the bottle we put a little Italian flag, given to us by the museum of Timau (Udine), Italy.