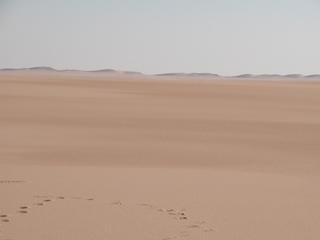 (visited by Giorgio Fiorentino, Fabio Scanferla, Marco Scanferla, Emilia Lombardi, Massimo Scanferla, Roberto Cappi, Maurizio Ferri, Matteo Maldini, Luca Maldini, Luigi Varani, Fabio del Giudice, Caterina Maiocchi, Achille de Dominicis and Valeria Artioli)
02-Jan-2007 -- Continued from 32N 24E.
Confluence nr. 2
On Tuesday, 2 January 2007, early in the morning (it was 8:45) after deflating tyres in order to better "float" over the sand, we reached and visited the intersection between meridian 28° and parallel 25°. This site is a few steps away from the Egyptian borderline, in a particular place: a flat sand expanse that we reached after driving between 2 dune walls, in a small sand valley.
Continued at 25N 25E.