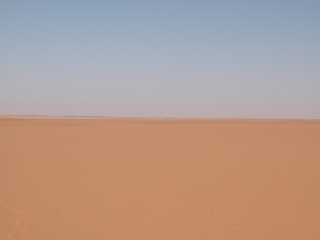 (visited by Giorgio Fiorentino, Fabio Scanferla, Marco Scanferla, Emilia Lombardi, Massimo Scanferla, Roberto Cappi, Maurizio Ferri, Matteo Maldini, Luca Maldini, Luigi Varani, Fabio del Giudice, Caterina Maiocchi, Achille de Dominicis and Valeria Artioli)
05-Jan-2007 -- Continued from 25N 25E.
Confluence nr. 4
On Friday, 5 January 2007 at 11:00 we visited the crossing between parallel 23°N and meridian 24°E. Just like the previous one, this Confluence too is along the borderline between the 2 countries. After we left Kufra oasis and its experimental cereals growing, we headed towards the Jabal Arkanū rocky buttress. After a few hours' driving on the sand we got there. This point too is in an endless expanse that gave us unforgettable sunsets and horizon views. To reach this expanse we had to drive through amazing and touching "whale-back" sand dunes.
Continued at 25N 23E.