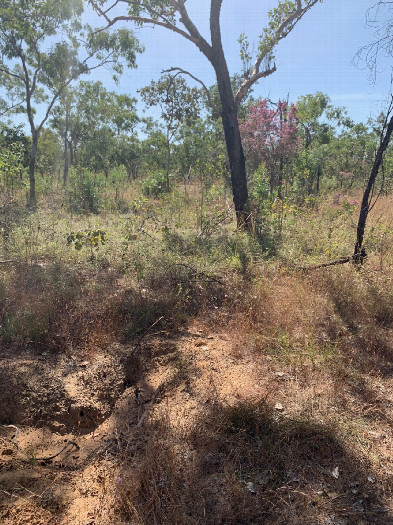 (visited by Ashley Watson, Toby, Sally Clear, Des Clear, Maria Storti, Morris Dalla Costa, Kate Montgomery, Andrew Montgomery, Michelle Mulhall, Brendan Mulhall, Rosemary Korda and Daryl)
10-Jun-2021 -- Our party of 12 was on a road trip from Darwin to Cairns, on this leg returning to the Stuart Highway from Nhulunbuy via the Central Arnhem Road. Just a couple of km before the Goyder River causeway, the old road turns off to the south and soon leads to a water crossing of the river. Half way before the crossing (about 5km from the turnoff) we pulled up and visited the confluence on foot - only about 100m off the north side of the track. An easy stroll, all the while watching carefully for snakes. The confluence is located amidst typical open mulga forest and woodland vegetation, the taller trees being Darwin stringybark. Photos were taken in all four cardinal directions and the satisfied and happy group then set off for lunch and a crossing of the Goyder.
Note that, at the time of the previous visit to this confluence the Central Arnhem Road passed directly by the confluence. The road has since been diverted to the north over the causeway. To visit the confluence one must now turn off the main road on to the old track, which can easily be done when approaching from either the west or east (as described above). An approach from the west first involves the water crossing of the Goyder, which could be dangerous after heavy rain.