Quality: good
{ Main | Search | Countries | Information | Member Page | Random }
| | |
| --- | --- |
|   31°N 103°W (visit #1) | (incomplete)  |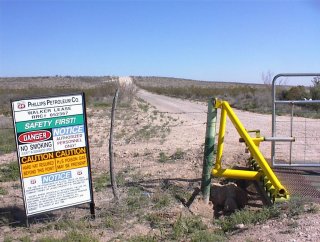 (visited by Tim Vasquez)
23-Mar-2001 -- This was a disappointing attempt, symbolized here by the polished and rigorously padlocked oilfield access gate belonging to Phillips Petroleum Company. This gate was located along U.S. 285 about 10 miles northwest of Fort Stockton, Texas, and judging by TerraServer images appears to be the only easy way inside. The confluence point was 2 miles north of the gate. Parking and hiking are likely the best choices for any future visitors to this confluence point, though the NOAA NGS survey marker database has some detailed but 25-year-old travel directions towards this area that start from the east at TX 18 rather than U.S. 285.
All pictures
#1: Looking towards confluence point 2 miles away at oilfield gate
ALL: All pictures on one page
Notes
Take Exit 257 on I-10, and turn left (north) onto US 285. Go 7.0 miles (going past the Ft. Stockton Oil and Gas Field on your right) to an unnamed road which crosses the highway. Turn right onto it, and go 2.74 miles north. Stop, and walk 290 feet due east to the confluence.