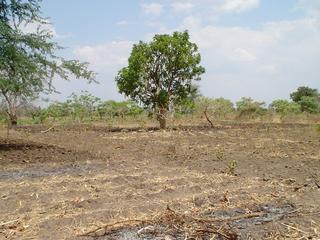 (visited by Corne Vermaak, Anton Matthee, Yvonne Vorster, Vossie Vorster, Kobus Swanepoel, Adri Swanepoel, Annie Mare, Ben Theron, Kobus Theron, Japie Mare, Tommy Freeborough, Robert Consani, Mark Kurzewski, Roland Bergh, Simon Conradie, Patrick Consani, Lasea de Beer and Kobie van Heerden)
13-Oct-2005 -- This Confluence was visited by the Overland Challenge finalists, on a trip across Africa from Beira to Swakopmund. The team consisted of Corne Vermaak, Lasea de Beer, Patrick Consani, Simon Conradie, Roland Bergh, Mark Kurzewski, Robert Consani, Tommy Freeborough, Japie Mare, Kobus Theron, Ben Theron, Annie Mare, Adri Swanepoel, Kobus Swanepoel, Vossie Vorster, Yvonne Vorster, Anton Matthee and Kobie van Heerden.
Unfortunately for us, the site was already visited when we got there, we did not know this before we left on our journey. Nevertheless, the visit was still worthwile, and we can still log a visit to a Degree Confluence! We also visited 19S 19E during the trip, virtually on the other side of the continent!