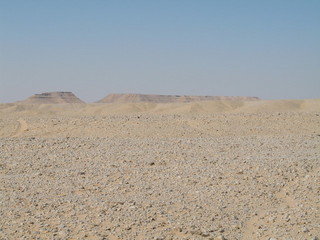 (visited by Gary Robbins, Holly Fluty Dempsey, Jim Dempsey, Peter Gaballa, Hidde Wientjes, Eva Wientjes, Nicole Wientjes, Fokko Wientjes, Iain Moorhouse, Roger Moorhouse, Jane Moorhouse, Martin Moorhouse, Rebecca Robbins, Sara Robbins, Kaaren Mirk and Beverly Dempsey)
02-Jan-2007 -- We were at the end of the five day trip through Dakhla on our way to a last night in Abū Muḥarrik Dunes. Members of the group had traveled in from The Netherlands, the U.K., and Cairo just for this trip.
Like the first finders, we were passing by and decided to make the 3 km detour to go to the Confluence. Some members of the group had no idea what we were doing, but went along anyway. After a brief stop we were back on our way to Farāfira and Abū Muḥarrik Dunes.