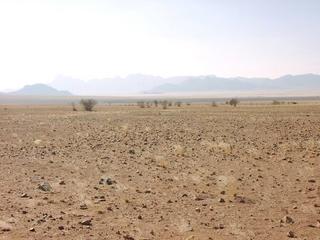 (visited by Hendrik van Eeden, Kempen Kotzé, Mariaan Kotzé, Willie Kotzé, Andries Louw, Hannes Louw, Elmien Louw, Fanie Louw, Catherine Schenck, Rinie Schenck, Ferdinand Schenck, Fraser Schenck, Ferdi Schenck, Liesl van Eeden, Heidi van Eeden, Jana van Eeden, Louise van Eeden and Marko Kotzé)
26-Jun-2003 -- Continued from 26S 17E.
From Helmeringhausen to Sesriem the road passes through some of the most beautiful landscapes in Namibia. On our map the Confluence appears to lie quite close to the road, but it is in fact about 5 km off the D826 in the NamibRand Nature Reserve. Future visitors should get permission from the owners before visiting.
At Sesriem we visited the photogenic Sossusvlei and Deadvlei, where the Tsauchab river ends amongst the highest sand dunes in the world.
Continued at 24S 16E.